Bassdrive Radio addon for VLC
I have been listening to Bassdrive Radio almost daily for over 10 years now. It's a worldwide drum and bass radio, but it's aired from the USA which means that usually when I'm active they are airing reruns, so I listen to the shows in the archive instead. I didn't want to have a browser tab open for it and I wanted a bit better UI. I decided to build a VLC addon for that.
VLC addons
VLC has a lua API for addons. Basically you need to drop a lua (or compiled luac) file to a specific directory and VLC will load the addon next time it starts. The addons allow you to extend VLC functionality in multiple (limited) ways. For my purpose it seemed that a "Service Discovery" addon was needed.
What I wanted the addon to do is to allow me to choose any show from the Bassdrive Archive or the live stream when I open VLC. Initially I though that I will scrape the archive HTML and build the archive, but it was very slow, so I quickly decided to have another layer between the archive and the addon: an API.
Bassdrive API
Since I was mainly programming in Dart during that time I decided to build the scraper/API builder in that. Basically what it does is:
Using GitHub Actions, scheduled to run every hour
Scrape the Bassdrive Archive and build a JSON tree from the shows
Publish the JSON tree as a file in GitHub Pages
Since the archive does not update that often, having it running once per hour is more than enough. The actual published API is available here.
VLC Bassdrive addon
The addon itself is pretty simple: it fetches the JSON file from the API and builds a menu from the tree. It still takes some time though so I hardcoded the live URL in case I want to start listening to it straight away.
1
2
3
4
5
6
7
8
9
10
11
12
13
14
15
16
17
18
19
20
21
22
23
24
25
26
27
28
29
30
31
32
33
34
35
36
37
38
39
40
41
42
43
44
45
46
47
48
49
50
51
52
53
54
55
56
57
58
59
60
61
62
63
64
65
66
67
68
69
70
71
72
73
74
75
76
77
78
79
80
81
82
83
84
85
86
87
88
89
90
91
92
93


local

 

json

 

=

 

nil




local

 

dayOrder

 

=

 

{

'Monday'

,

 

'Tuesday'

,

 

'Wednesday'

,

 

'Thursday'

,

 

'Friday'

,

 

'Saturday'

,

 

'Sunday'

}





function

 

descriptor

()


    	

return

 

{

 

title

 

=

 

"Bassdrive Radio"

,

 

capabilities

 

=

 

{}

 

}




end





function

 

indexOf

(

array

,

 

value

)


    

for

 

i

,

 

v

 

in

 

ipairs

(

array

)

 

do


        

if

 

v

 

==

 

value

 

then


            

return

 

i


        

end


    

end


    

return

 

nil




end





function

 

daysort

(

a

,

 

b

)


	

return

 

indexOf

(

dayOrder

,

 

a

)

 

<

 

indexOf

(

dayOrder

,

 

b

)




end





function

 

pairsByKeys

 

(

t

,

 

f

)


      

local

 

a

 

=

 

{}


      

for

 

n

 

in

 

pairs

(

t

)

 

do

 

table.insert

(

a

,

 

n

)

 

end


      

table.sort

(

a

,

 

f

)


      

local

 

i

 

=

 

0

      

-- iterator variable


      

local

 

iter

 

=

 

function

 

()

   

-- iterator function


        

i

 

=

 

i

 

+

 

1


        

if

 

a

[

i

]

 

==

 

nil

 

then

 

return

 

nil


        

else

 

return

 

a

[

i

],

 

t

[

a

[

i

]]


        

end


      

end


      

return

 

iter




end





function

 

main

()


	

lazy_load

()


	

local

 

live

 

=

 

"https://bassdrive.radioca.st/stream"

;

 

--parsed['live']; Live URL doesn't change so hardcode it to make it load faster



	

vlc

.

sd

.

add_item

({

path

=

live

,

 

title

=

'Live'

})


	
	

local

 

parsed

,

 

_

,

 

err

 

=

 

parse_json

(

'https://bd.maido.io/api.json'

)



	

if

 

err

 

~=

 

nil

 

then


        	

vlc

.

msg

.

err

(

"Error to parse JSON response: "

 

..

 

err

)


        	

return


        

end



	

for

 

dayName

,

 

day

 

in

 

pairsByKeys

(

parsed

[

'archive'

],

 

daysort

)

 

do


		

local

 

dayNode

 

=

 

vlc

.

sd

.

add_node

(

 

{

title

=

dayName

}

 

)


		

for

 

_

,

 

show

 

in

 

ipairs

(

day

[

'shows'

])

 

do


			

local

 

showNode

 

=

 

dayNode

:

add_subnode

({

title

=

show

[

'name'

]})


			

for

 

_

,

 

episode

 

in

 

ipairs

(

show

[

'episodes'

])

 

do


				

showNode

:

add_subitem

({

path

=

episode

[

'encodedUrl'

],

 

title

=

episode

[

'name'

]})


			

end


		

end


	

end




end






function

 

lazy_load

()


	

if

 

json

 

~=

 

nil

 

then

 

return

 

nil

 

end


	

json

 

=

 

require

(

"dkjson"

)




end





function

 

parse_json

(

url

)


    

local

 

stream

 

=

 

vlc

.

stream

(

url

)


    

local

 

string

 

=

 

""


    

local

 

line

   

=

 

""



    

if

 

not

 

stream

 

then


        

return

 

nil

,

 

nil

,

 

"Failed creating VLC stream"


    

end




    

while

 

true

 

do


        

line

 

=

 

stream

:

readline

()


        

if

 

not

 

line

 

then


            

break


        

end



        

string

 

=

 

string

 

..

 

line


    

end



    

if

 

string

 

==

 

""

 

then


        

return

 

nil

,

 

nil

,

 

"Got empty response from server."


    

end



    

return

 

json

.

decode

(

string

)




end





function

 

log

(

msg

)


    

vlc

.

msg

.

dbg

(

 

"[BASSDRIVE] "

 

..

 

msg

 

)




end



And here's how it looks like: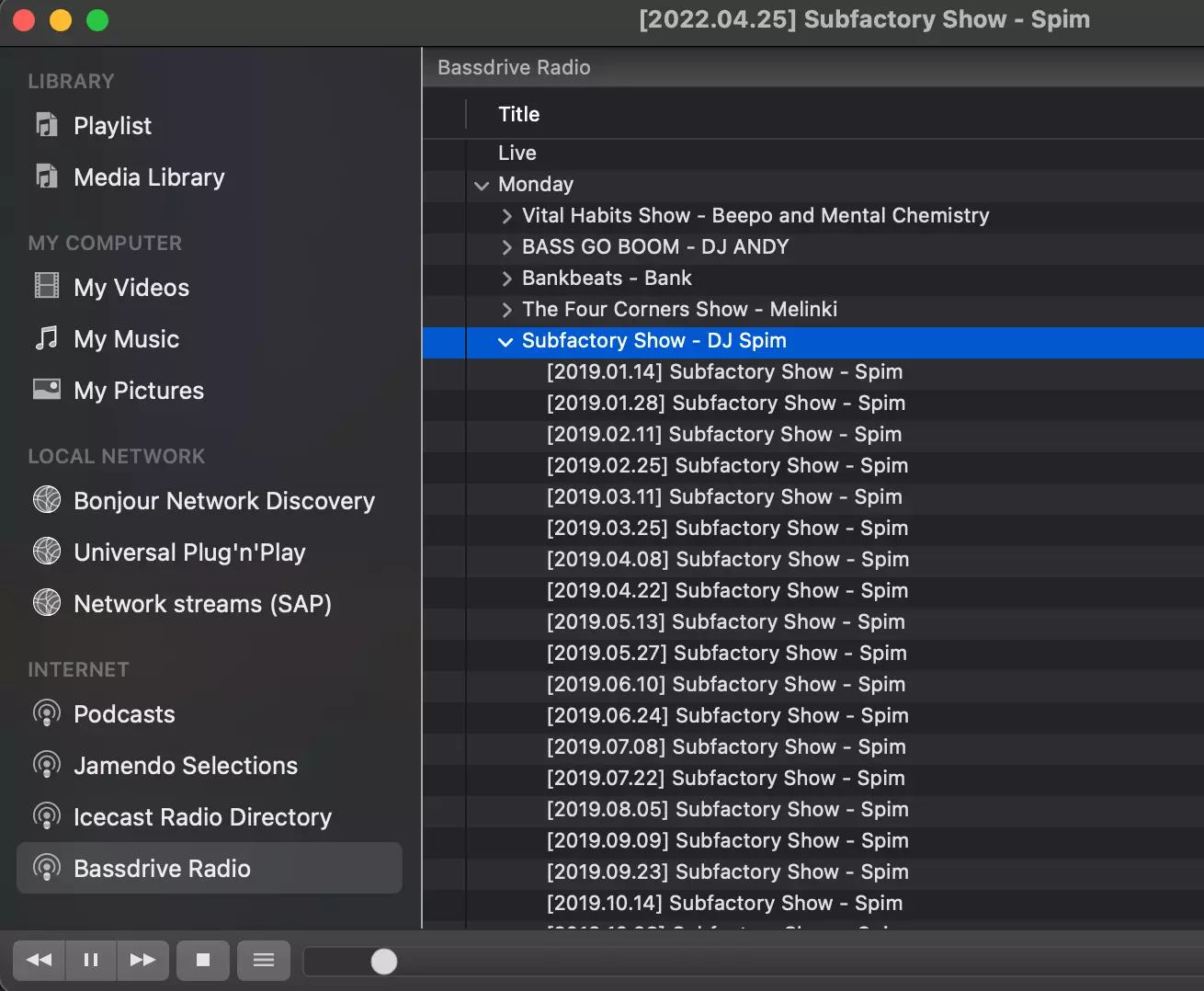 Install
To install, copy the script to the following location:
Windows (all users): %ProgramFiles%\VideoLAN\VLC\lua\
Windows (current user): %APPDATA%\VLC\lua\
Linux (all users): /usr/lib/vlc/lua/
Linux (current user): ~/.local/share/vlc/lua/
Mac OS X (all users): /Applications/VLC.app/Contents/MacOS/share/lua/
Mac OS X (current user): /Users/%your_name%/Library/Application Support/org.videolan.vlc/lua/